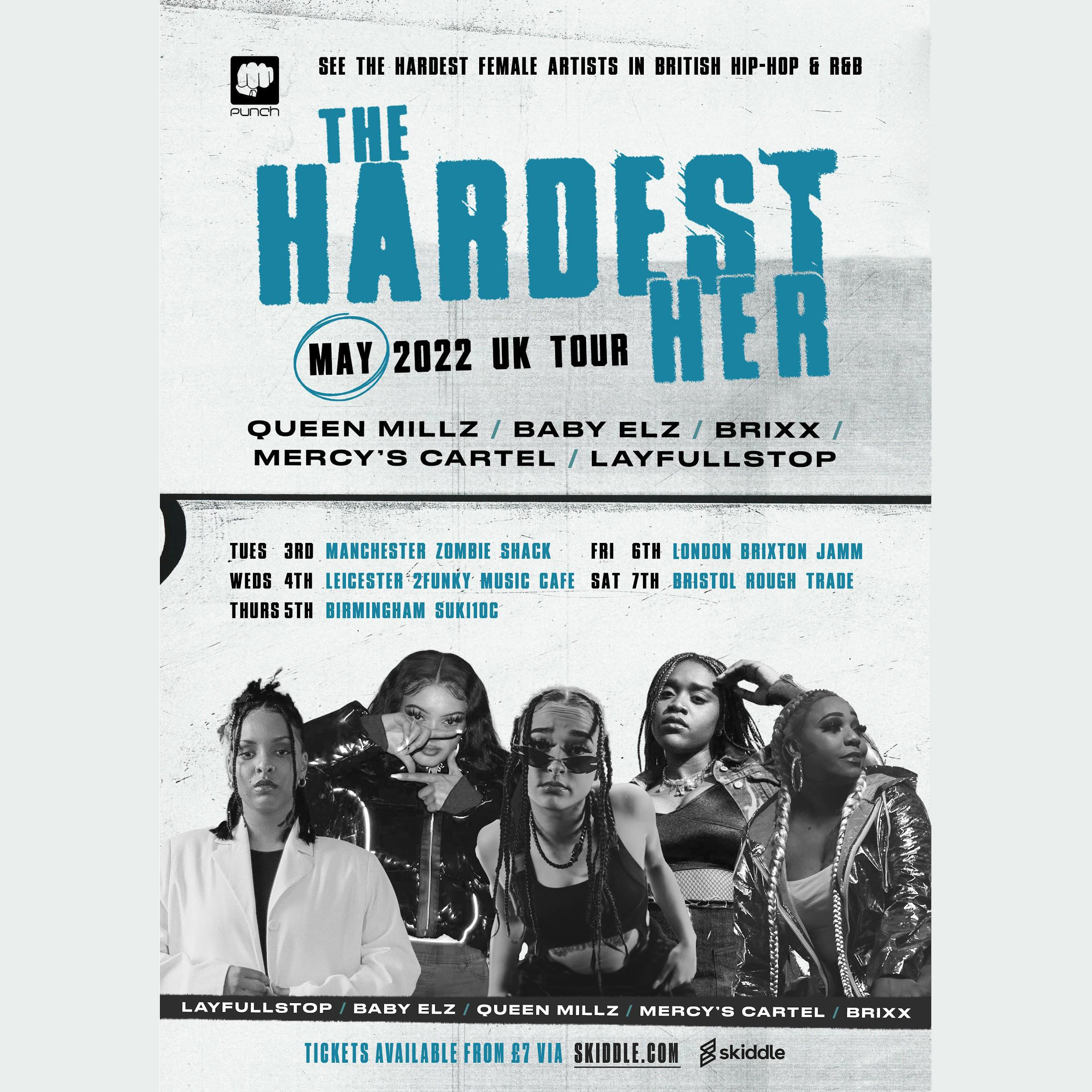 In an age where male dominated line-ups are still the norm, the freshest females in the UK's music scene right now come together for an unmissable tour this May.
'The Hardest Her Tour' boasts some of the most exciting names in the UK right now – this is your chance to see them all for one night only in Manchester, Birmingham, Leicester, Bristol and London,across May 2022.
The lineup includes a range of unmatched talent, with genres ranging from Grime, Hip-Hop, Garage, R&B, Drill and Trap. Leicester-based triple threat Queen Millz effortlessly switches from incendiary flows to sweet-soul vocals, whilst Baby Elz may have a laidback demeanour, but her bars are anything but. Mercy's Cartel and LayFullstop will inject some serene soulful energy with their jazz-tinged R&B sounds, with Birmingham-born Brixx drawing on her Jamaican heritage to create a vibe that will get the dancefloor shaking.
These ladies are taking over the scene right now so prepare yourself for an unforgettable night of unmissable talent, as each artist represents their home city across a 5 day tour.
The Hardest Her tour kicks off in Manchester on 3rd May and you can buy tickets here.
Social media
Queen Millz: Instagram // Facebook // Twitter
Baby Elz: Instagram // Twitter
Mercy's Cartel: Instagram // Twitter // Facebook
LayFullstop: Instagram // Twitter // Facebook
Tour Dates:
May 3 – Manchester Zombie Shack
May 4 – Leicester 2funky Music Cafe
May 5 – Birmingham Suki10c
May 6 – London Brixton Jamm
May 7 – Bristol Rough Trade
Artist Bios
Queen Millz
Queen Millz has always had an adventurous mind. As a kid in a nowhere town on the outskirts of Leicester she knew she wanted more, this irrepressible energy that took her into some dark places, out on the wrong side of the tracks.
So her parents intervened. Millz was born with a silver tongue, so they enrolled her in a poetry workshop, something to channel that energy. "I was always causing trouble. Didn't have a very good reputation in the area," she recalls. "But I was always good at writing stories. So when I was naughty and got kicked out of school my Dad would make me write lyrics."
Born to two music-obsessed parents, Queen Millz took the drum 'n' bass she'd hear from their parties and blended it with the pop she'd hear at school, adding a dash of the grime wave that overhauled the Midlands. Something unique was born, with this diminutive, remarkably young MC demolishing her older male rivals at clashes across Leicester and beyond.
"I don't think they'd experienced such a young female rapper," she laughs. "My whole life, men – boys – have left me out of things because I'm a girl. When it came to rapping I was like, OK, I'm on level with you lot."
With local heroes like Trillary Banks and Lady Leshurr in her corner, Queen Millz' stature rocketed. Placing a series of biting freestyles online, she took on all comers, with her feral bars quickly going viral. "I had a point to prove," she insists. "I want to be on top cos I know I'm working hard enough."
Taking time out to study dance, Queen Millz is the original triple threat – she can sing, she can spit bars, and she can put on a supreme show. She embraces everything from Kano to Chris Brown, Stormzy to Nicki Minaj, moving from sweet soul vocals to all-out fire on the mic with just the flick of her wrist. "I'm not a rapper, I'm an artist," she insists. "I started on rap, I'm very good at rapping, but I'm also a singer. If you were to ask me what I am, I'd say: artist. And if you said 'what's that?' then I'd say I'm a singer-rapper-songwriter basically."
Precociously talented, unrelentingly confident, word is already out on Queen Millz. Some of the biggest production teams around are knocking at her door, with recent sessions including the likes of Heavytrackerz (Stormzy, Meridian Dan) and TSB (Dave, J Hus). Her debut EP is already under way, moving from the ultra-grimy sludge of 'Get Dark' to the super-sweet 'Aye Aye'. Of the latter she says: "I feel like some men, nowadays, are all a lot about materialism, and they want to be flashy to try and get women," Millz explains. "But it's not about what you can buy me. It's like: What's your emotion? What's your aura saying? What's your energies like? I don't care what your bank account is saying…"
Anti-materialistic track 'Money' proves that she's the real deal. "Everyone is always talking about how much money they've got, every music video is about money, splashing the cash, but behind closed doors they ain't really got that money. They're just doing it. I'm broke. I happily stay at home if I'm broke and I'll be in my zone writing my music."
Queen Millz is always searching for something, but making this presentable to the widest possible audience. "I try and be real with it," she insists. "I try and write from personal experiences. I want to be relatable but at the same time make a banger. So the females can relate, the men can jam to it."
She's found her calling, and this incredible talent is building her audience, one fan at a time. "People need to believe in themselves," she says. "It doesn't matter what anyone else thinks because 10 people might hate you but another million might love you. I just keep going and going and pushing myself so I can prove that I can do it, so I can prove that since I believe in myself it doesn't matter what you think."
It all goes back to fighting for her place – being pushed to the outside but aiming for the top. "When I first started with music it was Lil Millz, because I was little. But then I grew up into a woman, and my sound changed, my look changed, everything changed. I felt like a Queen."
Her majesty is ready to take the throne.
Mercy's Cartel
Mercy's Cartel creates genre-bending music, influenced by R&B, hip-hop, trap, gospel and afro-beat. Mercy is driven to create music that is unique to her experiences with racism, mental health and a turbulent journey through adolescence. Her songwriting skilfully blends soulful melodies with strikingly observational and, sometimes, witty lyrics.
Despite being in the early stages of her career, Mercy has received much critical acclaim and support in the media. This includes plays on Radio 1 (on shows including, Rickey, Melvin and Charlie, and Jack's Saunders' Future Artists show) and support from BBC Introducing West. Support in the press comes from features in prominent publications such as Mixtape Madness, Clash, and Earmilk. Mercy's Cartel was also included in H&M's in-store playlist.
Playing live is one of Mercy's Cartel's greatest passions. High-energy performances and artistic stage productions have gained serious recognition in the Bristol Hip-Hop/RnB scene and has led to supports with artists such as Kojey Radical, Tom Grennan, Tirzah, Etta Bond, Yazmin Lacey, and more. They also secured spots at festivals such as Dot to Dot, Glastonbury, Kendal Calling, and We Out Here and were selected to open up for Lauryn Hill, Grace Jones, and IDLES at The Downs Festival.
Layfullstop
LayFullstop is a Jazztronica artist from Manchester, by way of Birmingham.
From Lay's accredited first project 'The Blue Compilation', she has come a long way from her signature jazz-infused, lo-fi sound and delivery. With her Christian faith as the driving force behind the shift, Lay's music now holds deeper sentiments consisting of spirituality, hope and hardships.
LayFullstop's upcoming mixtape "STiR" sets to do just that, screaming of a new found independence and a unique appreciation for jazz music. Her passion for development has also transpired into becoming a credible voice of reason, an emerging leader using not just her music, but her platform as a means of sharing truth and aspiration which is needed now more than ever.
A prolific creative, she has built momentum with her shows across the UK and across Europe. Not forgetting 2019 Lay's Cherries EP, and A COLORS SHOW performance which garnered the attention of taste makers and publications around the world, all who are waiting earnestly for the next move from LayFullstop.
Brixx
My name is Brixx, I'm an artist from Birmingham. I was born in the United States, but I came to the UK as a young girl. My mother is originally from Birmingham and my father is from Jamaica, so my music is a reflection of both cultures.
emerging rapper Brixx unveiled her debut single entitled, "Man". The Birmingham-based artist has an interesting backstory that has intricately weaved its way into the music she creates today. After grafting for a while and working tirelessly to perfect her craft, she finds herself finally reaping the benefits of the seeds she's sewn. Once her gritty Blackbox Freestyle began to ignite conversations within the scene, she decided to set it on alight a month ago with her On Da Radar Freestyle. Since then, the freestyle has garnered over one-hundred-thousand views. So it comes as no surprise that the rapper has flown onto the radars of Bonkaz, Snoochie Shy, Nadia Rose and fellow Brummie Miss La Familia, who constantly rooted for her to win.
I rap about real life issues and some very personal experiences. Being raised by Caribbean parents had me speaking Patois, before I could speak English. So when I'm emphasising my delivery I use Patois, I also do it when I speak in general conversations.
When it comes to feeling pressured to over sexualise myself, I'm not really concerned. I applaud all females who are comfortable in their own skin. But, don't feel like I need to be naked to get views, I like to wear things that I'm comfortable in sometimes it's a tracksuit and sometimes it's not. Of course, image is important in music, but I thank god that I was born cute! Plus my music speaks for itself.
Baby Elz
Baby Elz debut single has amassed over 300k+ views on YouTube and 60k Spotify streams without no prior releases or high budgeted promo the single 'Pending' was being supported by major and local radio stations such as BBC1xtra
The 19 year old drill / rapper from north west London started her rap career on her Instagram platform at the age of 15 gaining vast traction from blog pages and other rap artist from her quick witted freestyles
Elz mostly gets noticed for her clear assertive yet laid back nonchalant flow that she attacks her beats with.