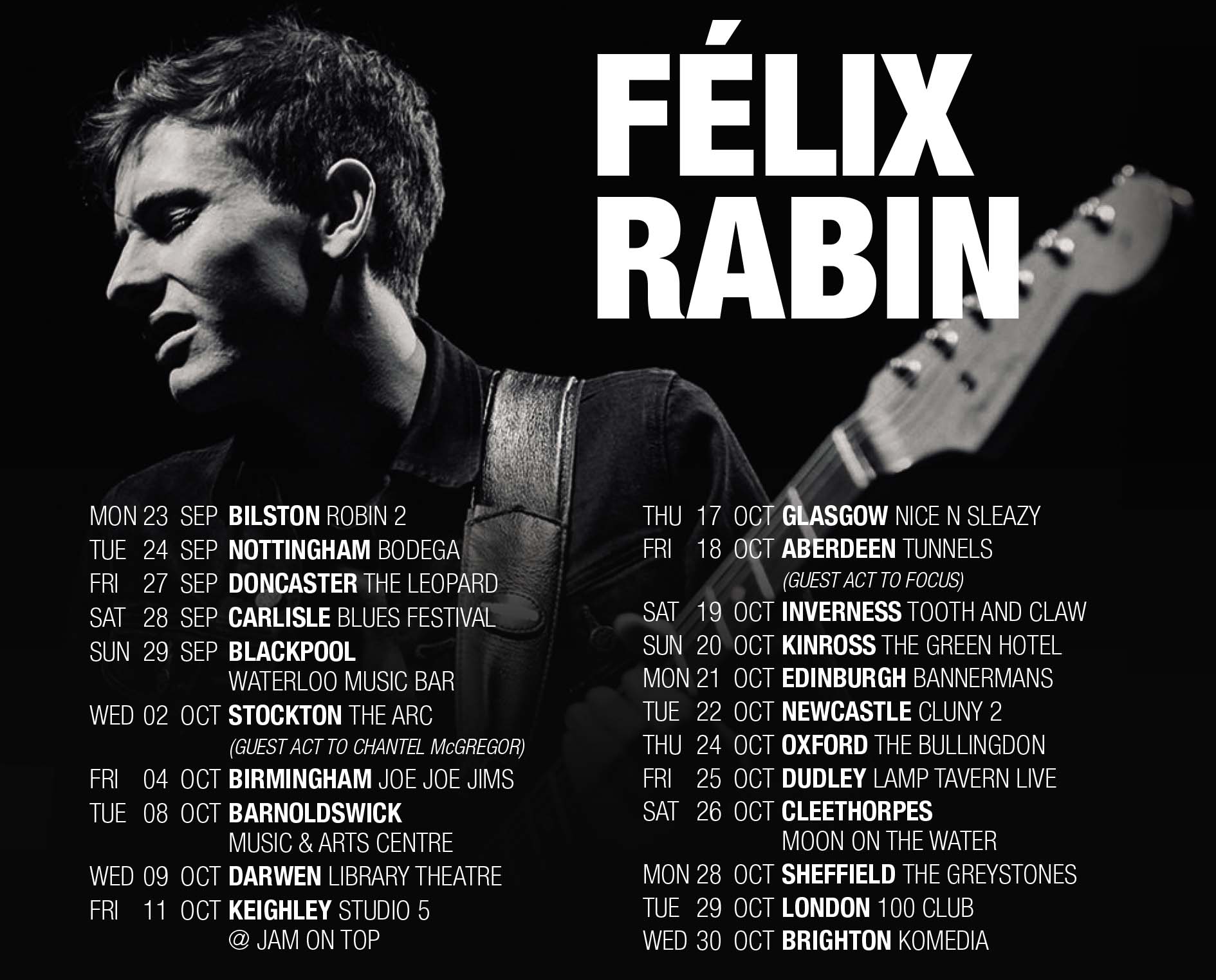 Solid Entertainments is delighted to announce that Félix Rabin is revisiting our shores next month
It's great news for blues-rock fans, live music lovers and aspiring guitarists in the UK, as Félix will be playing 22 dates across the country with his band starting on 23rd September 2019
The Brittany raised, Switzerland based 23 year old singer-songwriter and awesome guitarist was inspired by musicians like Jimi Hendrix, Stevie Ray Vaughan and Pink Floyd…..his style embodies these influences with inventive riffs, moody melodies and stunning guitar solos; this is contemporary blues-rock at its best!Loving music as long as he can recall, the desire to play came suddenly and when Félix picked up his first guitar at 15…….this is when the story began…
In 2018 Félix was "special guest" on the Wishbone Ash XLIX UK Tour and played to around 10,000 music fans at 28 venues across the country with his band. His adventure with Wishbone Ash exceeded his expectations and after receiving an amazing response from audiences, it wasn't long before Félix was back in the UK.
His first stand alone tour in April 2019 was so successful with music fans across the country, (check out the review of the gig at Nice N Sleazy in Glasgow at http://www.fabricationshq.com/feacutelix-rabin—nice-n-sleazy-glasgow.html) that a revisit later in the year from his home in Switzerland was inevitable and irresistible to the young artist. On this Félix said; "It was an incredible feeling to get back in some cities and to hear people coming to us saying they discovered us during our tour with Wishbone Ash and absolutely wanted to see us again. So five months after our last tour, we're more than excited to come back and play around the UK one more time, rocking time ahead !"
With a pressing demand for an album, in June Felix travelled to studios in Los Angeles to record his debut EP. Félix says, "One of the reasons why it took me so much time to organize, was that it took place in the States and getting the studio and producer I wanted was time consuming, but fortunately everything finally came together" . The album will be released early next year.
Don't miss seeing Félix with his band while he is the UK
Advance Tickets can be purchased online at http://www.solidentertainments.com/presents.htm#FELIX-TOUR
Face Value Ticket (no booking fee) Tel: 01472 349 222 – Mon to Fri 9.00am to 5.00pm
You can see, hear and find out more about Félix at https://www.felixrabin.com/