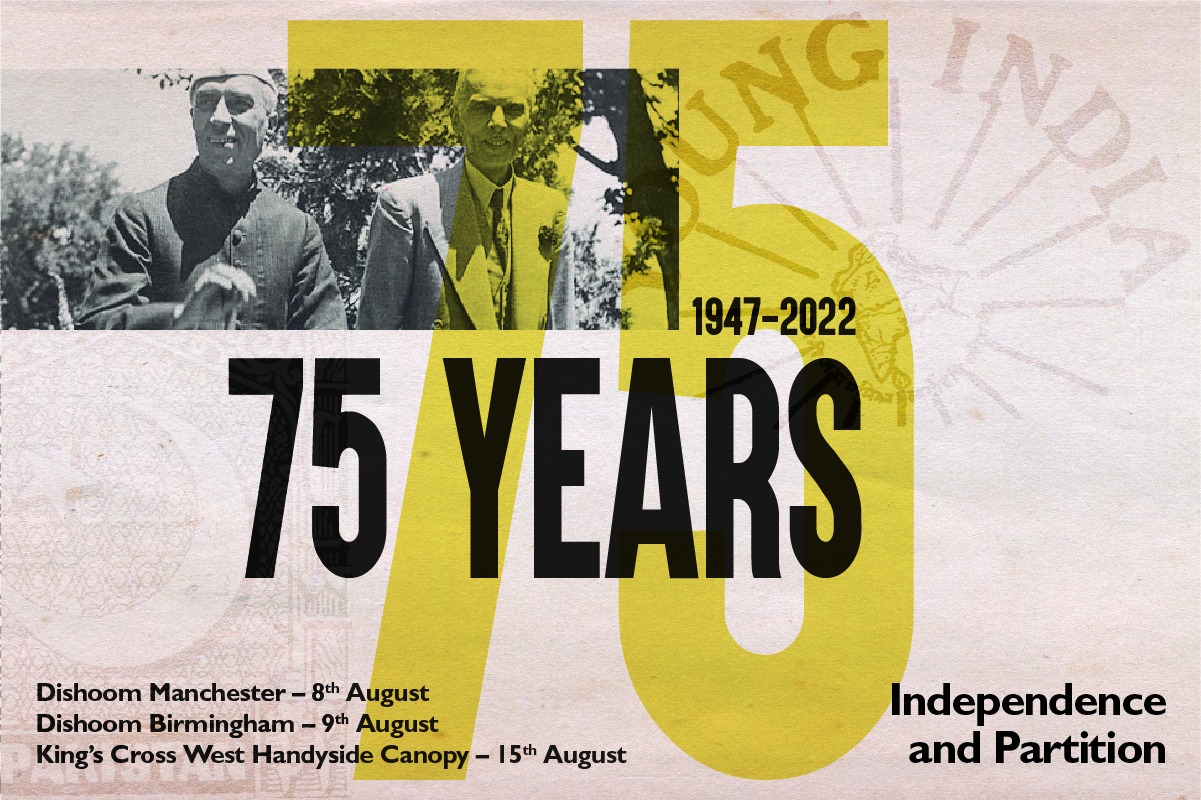 In Dishoom's Manchester café on Monday, 8th August 2022, Dishoom will host the first in a series of events marking the 75th anniversary of Indian independence and the creation of Pakistan. '75 Years' is a collaboration with Kavita Puri – the award-winning journalist, broadcaster and author. The event is a unique interpretation of Kavita's book, 'Partition Voices: Untold British Stories'. '75 Years' will tour across Manchester and Birmingham, before an evening outside Dishoom King's Cross – taking place under the West Handyside Canopy – on 15th August, the anniversary of Indian Independence.
'Partition Voices'
In August 1947, India and Pakistan gained their freedom as new independent countries after a long and difficult struggle. New democracies were born, people had found their voice and were finally able to determine their own destiny. However, at the same time, the Indian subcontinent had been partitioned into two independent states: a Hindu-majority India and the Muslim-majority Pakistan. This sparked one of the largest migrations in human history. Millions of Muslims travelled to West and East Pakistan (now Bangladesh), whilst millions of Hindus and Sikhs moved in the opposite direction. It is said that at least 10 million people made these life-changing journeys. Unimaginable violence accompanied their movements, and up to a million people lost their lives.
'Partition Voices' by Kavita Puri weaves a tapestry of human experience from the time of partition. She uncovers testimonies of those who experienced these events first-hand, resulting in an eye-opening and timely account of a period of sub-continental history that has shaped modern Britain. In her new edition to mark the anniversary, she explores the reverberations of partition: both the trauma and the nostalgia for the place left, and the legacy left to subsequent generations.
Dishoom pays loving homage to the Irani cafés that were once part of the fabric of life in Bombay. It was in the Irani cafés where people of any class, culture or religion could break bread together; shared spaces and experiences bring hope for less violence and less hatred. Today, more than ever, the hugely important work of breaking down barriers is fundamental to everything at Dishoom. Muslims and non-Muslims celebrate Eid together in the cafés, and Hindus and non-Hindus celebrate Diwali. People from all cultures and all walks of life come together in Dishoom's restaurants, and a meal is donated for every meal served – 13 million meals so far – to ensure that hunger is not a barrier to education.
More on '75 Years'
8th August – Dishoom Manchester, £50
9th August – Dishoom Birmingham, £50
15th August – 75th Anniversary of Indian Independence
Dishoom King's Cross, under the West Handyside Canopy, £30
Dishoom co-founder Shamil Thakrar met Kavita Puri in 2020 at Cheltenham Literature Festival. A shared strength of feeling that the events of partition were just not understood and talked about enough sparked the idea for '75 Years', as a way to explore the events of partition as part of not only South Asian history, but as the history of Britain.
The intimate evening events of '75 Years' will be set within the cafés in Manchester and Birmingham. The final event will take place outside Dishoom King's Cross on the day of Indian Independence itself.
Kavita and Shamil have invited survivors of partition, who have made journeys in both directions, to tell their stories in Dishoom's café spaces. Some of these individuals feature in Kavita's book, and some are second or third generation relatives, who explore the nuanced legacy of partition for them. The speakers will be invited to share their testimonies with the small audience of ticket holders, before questions are opened up to the floor, giving guests an opportunity to discuss the past, present and future of this defining moment. Renowned musician and composer Soumik Datta will also perform music created to accompany the series, providing important moments for reflection.
Guests will then be invited to break bread together over a plentiful Dishoom feast. Executive Chef Naved Nasir has created a menu where dishes all with their various religious pedigrees can jostle happily for room at the same table.
15th August 2022
Exactly 75 Years on from the birth of India's new nation, the finale of '75 Years' will take place outside of Dishoom King's Cross. Set underneath the West Handyside Canopy, long sharing tables will be laid out underneath vibrant festoon lighting, for a more informal and celebratory evening. As with the previous evenings,, there will be two separate testimonies, before a Q&A and live music. There will then be a communal Dishoom feast and an extra performance from Soumik Datta, especially for the King's Cross event.
75 Years Speakers:
Birmingham
Sparsh Ahuja – documentary filmmaker and the founder of Project Dastaan. He currently works as the Partnerships Director at South Asian Heritage Month.
Ali Arif (3rd generation British Pakistani) – founder of South Asian Book Club
Manchester
Binita Kane and her father, Bim – Binita is a full time respiratory consultant; co-founder of South Asian Heritage Month; and carer of her father, Bim. In 2017 Binita appeared on the TV documentary My Family, Partition and Me, and was the first member of her family to return to Bangladesh where her father was born and fled from.
London
Sarah Mohammed (speaking on behalf of her grandmother, Khurshid Sultana) – Khurshid was born in British India in 1932. After partition, she trained as a doctor in Karachi, Pakistan, before moving to Britain in 1961.
Mohindra Dhall MBE – born in 1941 in Lyallpur, British India. He moved to Indian Punjab in September 1947, and then to Delhi. He now lives in Scotland, where he founded the Ethnic Enterprise Centre in 1992, and the Scottish Indian Arts Forum in 1994. Mohindra is the founder of Edinburgh Diwali, and was awarded an MBE for services to arts in Scotland in 2006.
Tickets to '75 Years' will be available from www.dishoom.com/75years in July. More details to be released soon.