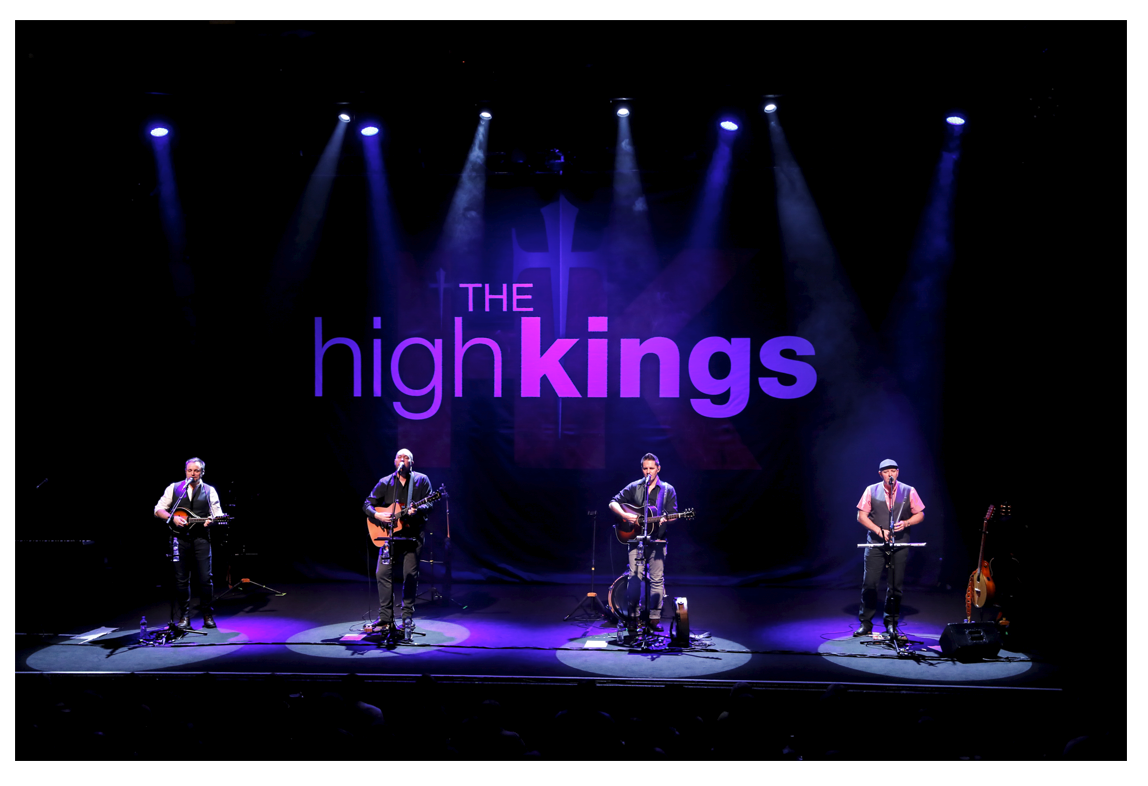 The High Kings are Finbarr Clancy, Darren Holden, Paul O' Brien and Brian Dunphy. Between them they play 13 instruments, creating their unique sound and atmosphere in the folk idiom and re-energise great Irish ballads. They have had great success over the years including Best Folk Act at Ireland's Music Awards. Their reputation has grown tremendously, and they have had enormous success both within the US and Ireland.
After 11 years at the top of their game, they are still selling out venues around the World to an ever- growing army of loyal fans.
They have charted across the world and performed for hundreds of thousands of fans, as well as in many prestigious situations including for the Prime Minister of England (2011), Barak Obama (2012) & George W Bush (2009 at The White House and at The Pentagon in 2015). They have made numerous coast to coast TV appearances including Good Morning America, Good Morning LA, The View & The Today Show.
Notable live performances include Glastonbury, the Isle of Wight Festival (3 times) headlining in 2015 and performed in Times Square as well as headlined the St Patrick's Day concert in Trafalgar Square London in 2015.
The High Kings continue to set the bar extremely high for Irish folk bands across the world and are widely regarded to be the standard-bearer for their genre in 2020. They are, essentially, marking out a new and bright era for Irish folk music. Not to be missed.
Highlights include:
*7 STUDIO ALBUMS
*2TOP 10 ALBUMS IN THE AMERICAN BILLBOARD CHARTS
*DEBUT ALBUM REACHED N0. 2 ON BILLBOARDS' WORLDWIDE CHARTS
*IT REACHED NO. 3 IN IRELAND, NO. 11 IN THE UK AND NO. 7 IN GERMANY.
*THE ALBUM SPENT A TOTAL OF THIRTY-SIX WEEKS ON THE BILLBOARD CHART.
*THEIR FOLLOW UP ALBUM ALSO REACHED NO.2 ON THE WORLDWIDE BILLBOARD CHARTS.
*ATOTAL OF 6 STUDIo ALBUMS CHARTED TOP 10 IN THE IRISH CHARTS
*AMASSED OVER 130K FANS ACROSS THEIR COLLECTIVE SOCIAL PAGES
*BACK-TO-BACK SOLD-OUT SHOWS ACROSS THE USA, UK & IRELAND 20/21
*INTERNATIONAL APPEAL & RECOGNITION inclduing UK, GERMANY & THE USA 
THE HIGH KINGS – June 2022 UK Tour Dates include:
Tuesday 7th June LONDON – Union Chapel
Wednesday 8th June BURY ST EDMUNDS – Apex
Friday 10th June BIRMINGHAM – Town Hall
Saturday 11th June MANCHESTER – Royal Northern College of Music
Sunday 12th June LEEDS – City Varieties
Tuesday 14th June MILTON KEYNES – Stables
Wednesday 15th June NEW BRIGHTON – New Floral Pavilion
Thursday 16th June GLASGOW – Oran Mor
Friday 17th June WHITLEY BAY – Playhouse
Tickets for the above shows are available from – https://www.thegigcartel.com/Artists-profiles/The-High-Kings.htm
For further information on THE HIGH KINGS, check out the following website / social media links:
Website – https://www.thehighkings.com/
Facebook – https://www.facebook.com/thehighkings
Twitter – https://twitter.com/TheHighKings
Instagram – https://www.instagram.com/thehighkingsofficial/
You Tube Channel – https://www.youtube.com/user/TheHighKingsOfficial