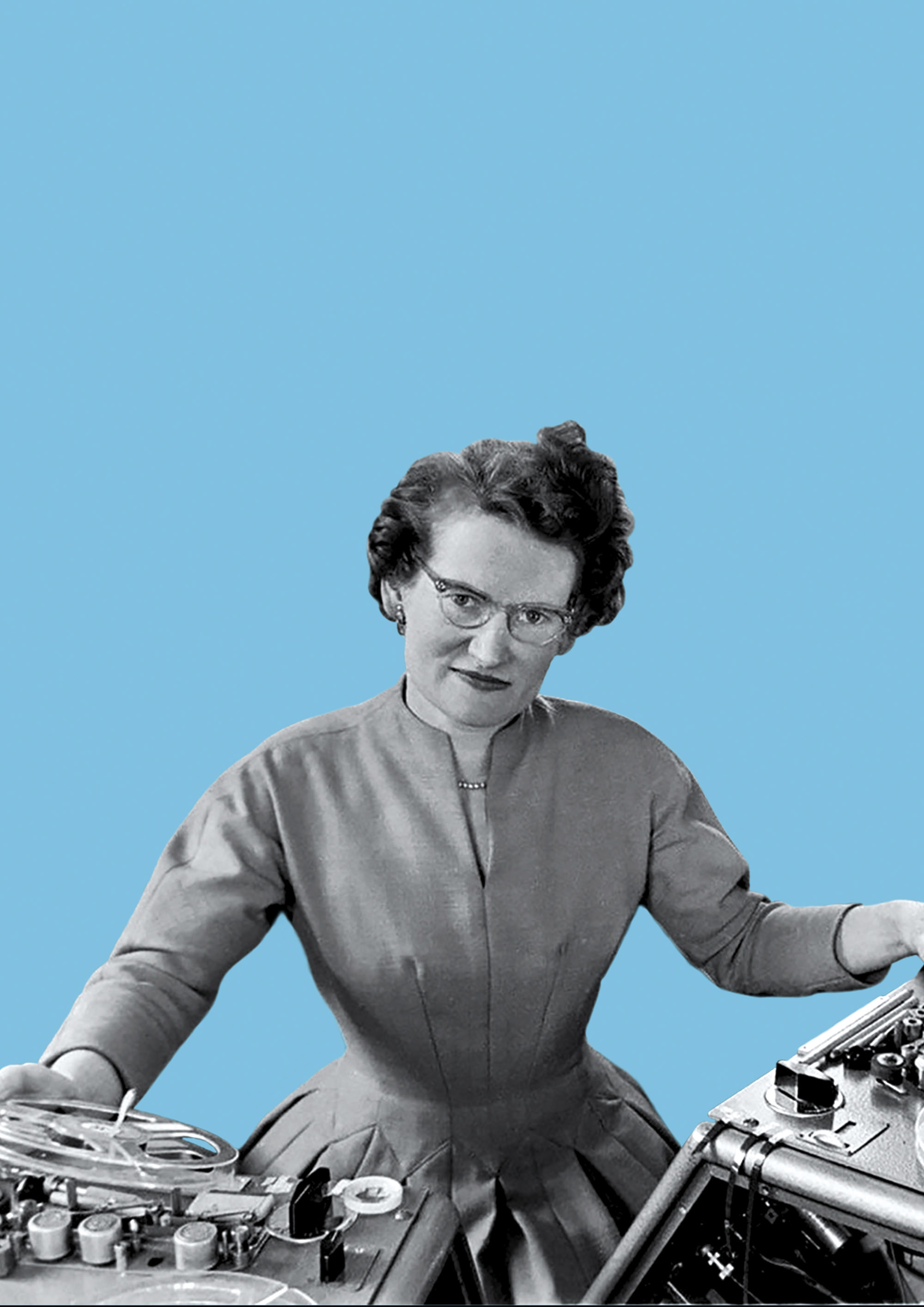 In November 2018, _REMIX will tour their latest night, Synth Remix. Featuring live performances and DJ sets, Synth Remix will celebrate the extraordinary innovation of female electronic musicians over the last 60 years, showcasing their aesthetic and technological legacy as well as the continued innovation of female artists working today.
Electronic musician Jo Thomas will interpret and reframe music by the pioneering female composers of the 1960s and 70s including Delia Derbyshire and Daphne Oram with archival research at the University of Manchester, BBC Archives, and Goldsmiths College offering performance of previously unheard music. The nights will culminate in a headline set by contemporary artist, Olivia Louvel, who will present her audio-visual work, Data Regina.
Launching in London at 93 Feet East, and broadcast live on digital station, Resonance EXTRA, the night will tour to Manchester (the Anthony Burgess Foundation), Leeds (Belgrave Music Hall), and Birmingham (Ikon Gallery).
Synth Remix is made possible by the generous support of Arts Council England (using public funding from the National Lottery), Sound and Music's Composer-Curator scheme, the PRS for Music Foundation, and The Fenton Arts Trust.
Throughout the 1960s and 70s a group of pioneering women working at the BBC Radiophonic Workshop, Bell Labs and elsewhere, developed and composed for innovative early synthesisers. Synth Remix will use live performance to explore the living potential of the radical music. Working with award-winning musician, Jo Thomas, _REMIX is collaborating with the Delia Derbyshire archive at the University of Manchester, the BBC Archives, and the Daphne Oram archive at Goldsmiths College, to unearth previously neglected music and build a fuller picture of these composers' life and work. Jo will interpret this historic music, performing on a range of synthesisers including Tom Richard's reconstruction of Daphne Oram's 'Mini-Oramics' synthesiser, the only one in existence, which translates drawn shapes into electronic sound.
DJ sets throughout the informal nights will showcase music by female artists working in the 1970s and 80s (Suzanne Ciani, Laurie Spiegel, Doris Norton and others), through to today (including Kara-lis Coverdale, Kaitlyn Aurelia Smith, and Carla Scaletti).
Olivia Louvel's multimedia performance, Data Regina, will conclude the nights. Performed alongside computer-generated animations by Antoine Kendal, the work sets text by Mary, Queen of Scots to explore female creativity, power and 'atmospheres of misogyny' [The Wire]. Fusing organic vocals, computer generated music, and immersive visuals, Olivia's performance will showcase the best of experimental electronic music making today.
At the Belgrave Music Hall, Synth Remix will run until 1am, moving from gig to club night. Accompanying workshops in London, Manchester and Birmingham are supported by The Fenton Arts Trust.
_REMIX is a concert series and club night. 'Unusual and incredibly special' [London in Stereo], _REMIX nights bring together 'the old and the new, the classic and the future classic, to emphasise their similarities and pick up on their differences.' Presenting nights at the V&A, Royal Academy of Arts, Historic Royal Palaces and elsewhere, _REMIX is 'a space where classical music can be enjoyed in a relaxed environment' [BBC 6 Music].
Jo Thomas has performed at venues including the Queen Elizabeth Hall, The Place and Cafe OTO, performing alongside artists including Maria Chavez, Lee Gamble, Phil Niblock and Squarepusher. In 2012 she won the Golden Nica in Prix Ars Electronica Digital Music's and Sound Art Category for her work Crystal Sounds of a Synchrotron.
Olivia Louvel has been praised for her 'brooding electronic pop' [The Wire] performing at 'the creative frontiers where music and art intersect' [The Quietus]. She is played regularly on BBC 6 Music, BBC Radio 3, Resonance FM and on international stations such as RTE Lyric FM's Nova (Ireland), Radio Eins's Elektro Beat (Germany), and Musique's La Matinale (France).
Benjamin Tassie, Artistic Director of _REMIX, says: 'The music these extraordinary women made almost 60 years ago still sounds so fresh and innovative today. I'm excited to be able to programme some really interesting artists to interpret this incredible music. Synth Remix will be something really special: a great opportunity to hear fascinating, important music (some of it previously unheard), with a beer, through some loud sound systems!'
Jo Thomas says: 'This is music that surpasses regiment and formality, it sings of pulsating beats which echo deep from the Earth's chamber. Music that has lasted the test time; deeply imaginative, musical, visual, tactile languages, scored with artistry and vision. These women made their own roots carved by relentless work, new instrumentation and creativity. Now I would like to carve my musical imagination through my own body into their music to create something new.'
_REMIX Details
Venue Details
08.11.2018

8pm-11pm

93 Feet East

150 Brick Lane,

London, E1 6QL

09.11.2018

730pm-1030pm

Anthony Burgess Foundation

3 Cambridge Street,

Manchester, M1 5BY

10.11.2018

830pm-1am

Belgrave Music Hall

1-1a Cross Belgrave Street, Leeds LS2 8JP

11.11.2018

6pm-9pm

IKON Gallery

1 Oozells Square,

Birmingham, B1 2HS
Tickets
| | |
| --- | --- |
| £8-£12 | |
| General Link: | |
| London | |
| Manchester | |
| Leeds | |
| Birmingham | |
Synth Remix Mixtapes
soundcloud.com/classical_remix/sets/synth-remix-mixtapes
Data Regina (extract)