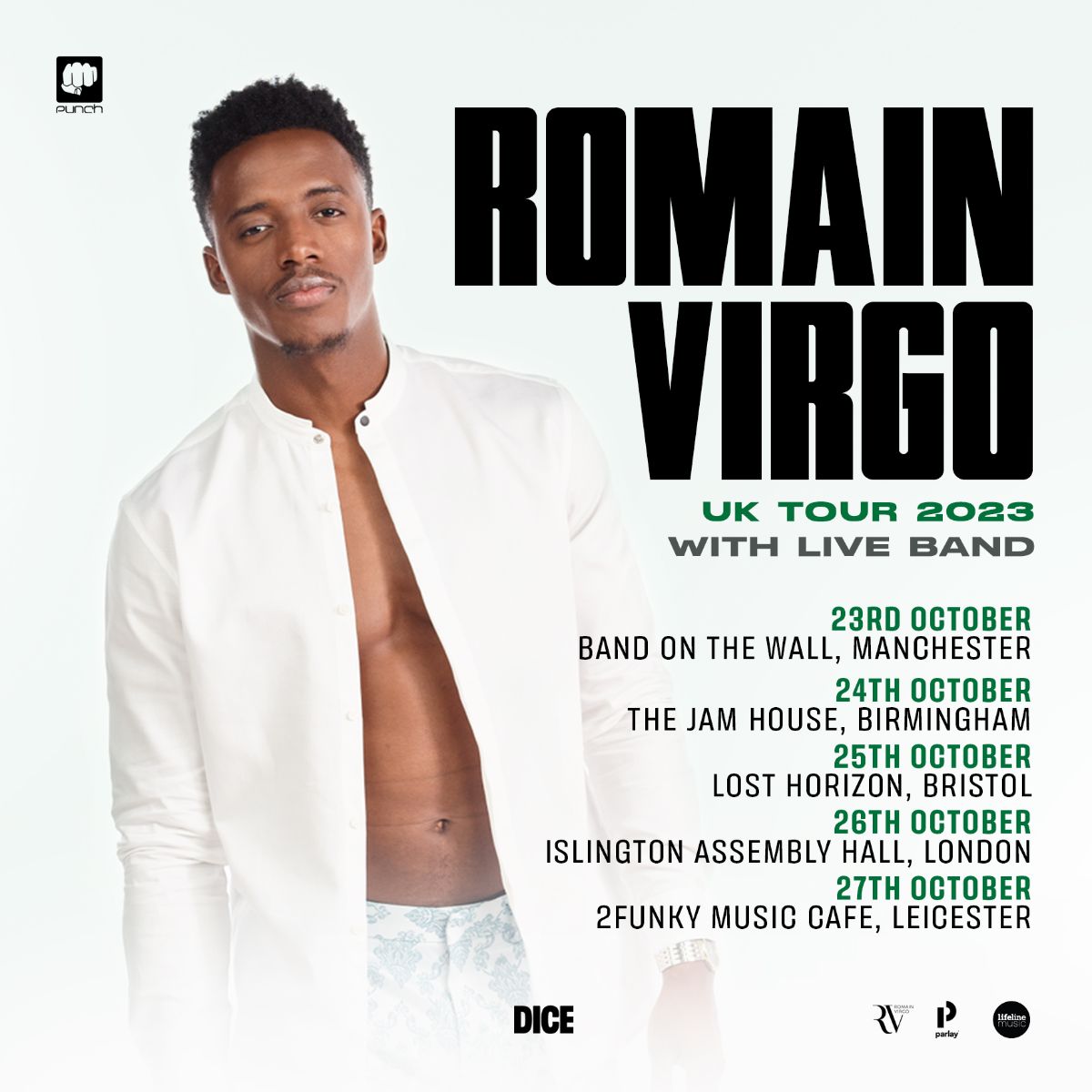 Reggae star Romain Virgo announces a UK tour this Autumn, visiting Manchester, Birmingham, Bristol, London and Leicester in October with a full live band. Tickets are on-sale from 10am on Monday, 14 Aug.
Romain Virgo is one of Reggae's foremost crooners. The artist's lyrical and sonic style is suited to the tastes of music lovers who relish a great love story being told. Fans have described his audio swagger as 'Marvin Gaye with a Reggae / Dancehall vibe.' Having performed an incredible set at the 'Reggae Sumfest' festival in Jamaica earlier this year, Romain now brings that world-class energy, live reggae, and lovers rock to the UK, showcasing hits including "Soul Provider", "Stronger", and "Good Woman"
Born in a small district called Stepney in the parish of St. Ann, Jamaica, Romain Virgo was raised in a Christian family who made singing a central theme in their home. Singing together each Saturday night and recording their voices on cassettes allowed them to play the recording back on Sunday morning for their church audience. Several church members took notice.
"I never took it seriously," he reflected, "I said it is just people in the community that want to build my confidence. When I was about 10, I had the microphone, and I was singing "Amazing Grace" in the church because I liked the sound of the echo there, and everybody was saying whoa, you can really sing. That is when I started to take it seriously."
Romain has released three albums to date; 'Romain Virgo' (2010), 'The System' (2012), and 'Love Sick' (2018), as well as numerous singles, including his hits 'Soul Provider', 'Stronger', 'Good Woman', and 'Star Across The Sky'. His music has been streamed over 200 Million times on YouTube, and he maintains over 300,000 global listeners on Spotify. He is ranked in the top 100 most popular artists from Jamaica and receives radio play worldwide in the United States, the UK, the Caribbean and Canada.
Romain Virgo's live performances have been hugely popular among fans. He has toured Africa, Canada, the United States and the U.K. His YouTube channel features his self-produced online series 'The Virgo's' that showcases life in the hectic Virgo household.
His most recent single, 'Driver', sharpens Romain's lover's rock sound with a modern edge. Romain bears his soul across the track; his voice soars to new heights, packing tender romance and sensual flair into smooth melodies. Produced by reggae/dancehall powerhouse Donovan 'Don Corleon' Bennett (Sean Paul, Rihanna, Sizzla) and written by Keely Keyz, the song is distributed by VP Records.
A new LP is due to be released soon via VP Records.
Tickets for his upcoming UK tour are available on Monday, 14 Aug.
23 October- Band On The Wall, Manchester
24 October – The Jam House, Birmingham
25 October – Lost Horizon, Bristol
26 October – Islington Academy, London
27 October – 2 Funky Music Cafe, Leicester