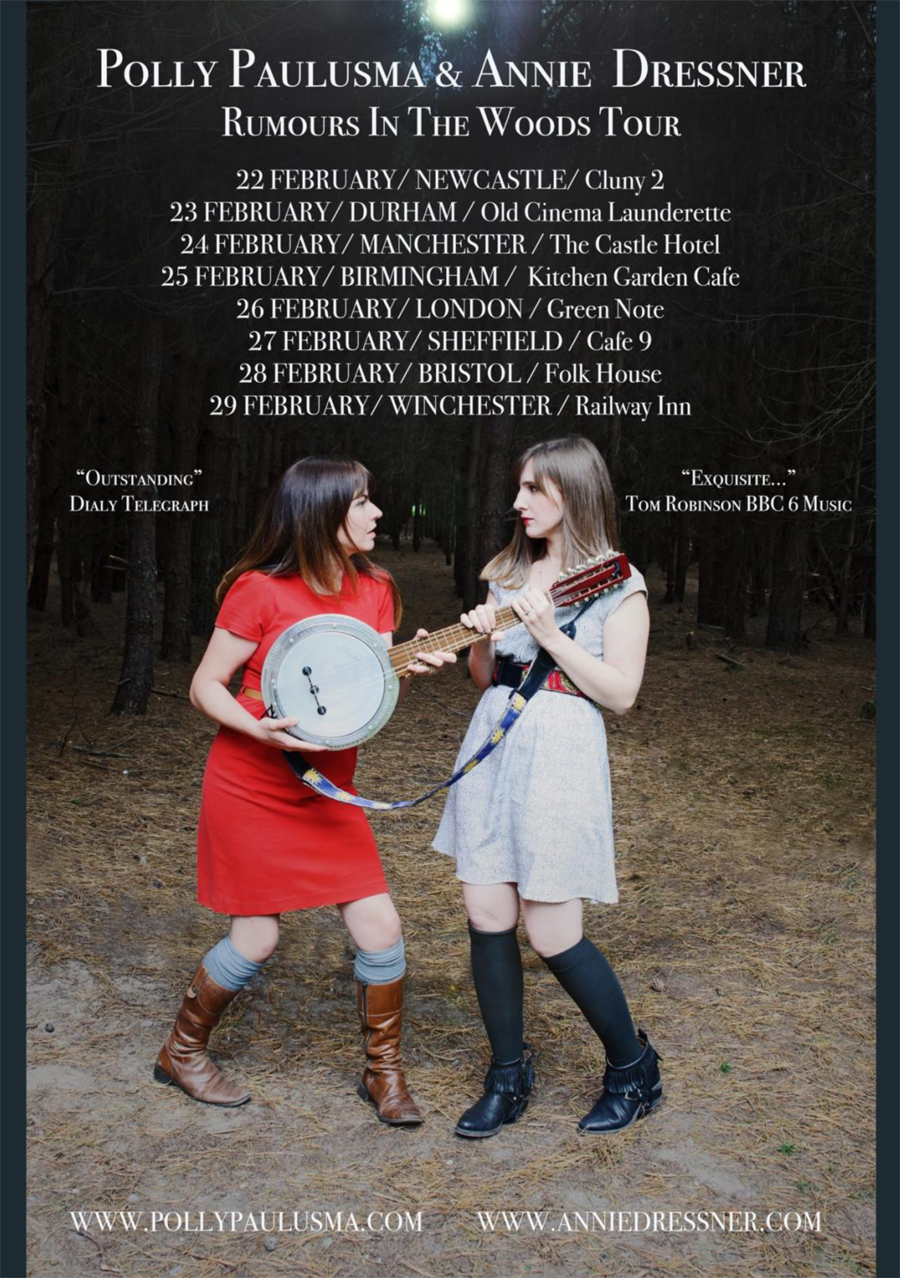 From 22 February –29 February, great friends and collaborators Polly Paulusma and Annie Dressner will be heading out on an acoustic co-headline tour. Paulusma signed to Bjork's One Little Indian label in 2003 and released two studio albums to international critical acclaim: the self-produced shed-recorded 'Scissors in my Pocket' (2004) and 'Fingers & Thumbs' (2007), produced by Ken Nelson (Coldplay, Kings of Convenience, Badly Drawn Boy).
In 2004, Uncut dubbed her "the finest young British female singer-songwriter to emerge over the last 12 months" and she received praise and plays from Radio 2's Terry Wogan and Michael Parkinson. She supported Bob Dylan, Jamie Cullum, Coldplay, and Marianne Faithfull, toured the US with The Divine Comedy and Joseph Arthur, and played Glastonbury, T in the Park, V Festival and Cambridge Folk Festival. Her third studio album, 'Leaves from the Family Tree' (2012) was the first release on her own indie-folk label Wild Sound, which went on to release the work of nine other indie-folk artists, including MazO'Connor and Matthew The Oxx.
Tracks from 'Leaves' found airplay on Radio 2 and 6Music with Clare Balding, Tom Robinson and Ruth Barnes. She produced lo-fi indie-folk albums for Harry Harris, Mortal Tides and Stylusboy, and scored the soundtrack for award-winning Canadian indie feature 'Clear Lake'. Wild Sound is now an indie folk imprint at One Little Indian Records.
In January 2019, while writing her PhD, she started serially releasing tracks, a song a month, for her mixed-media fourth studio album —working title 'Pivot' —which is slated for release across two years 2019-20. These songs, mixed with prose/drama elements, variously examine our daily pivoting roles —as child, parent, lover, friend, grandchild, grandparent —and are either self-penned orco-written with musical collaborators —Kathryn Williams, Tom McRae, Astrid Williamson, Danny Wilson (Grand Drive, Danny & The Champions of the World), David Ford, and Martin Carr (The Boo Radleys), and the writers Laura Barnett, Kirsty Logan, and Mark Davies Markham.
Through perpetual writing, collaborating, teaching and performing, Paulusma continues to grow both an impressive body of work and a notable reputation.Dressnerhas been garneringrave reviews for her recordings and live performances since moving from her hometown of New York City to the UK eight years ago.
From her debut 'Strangers Who Knew Each Other's Names', her EP 'East Twenties' and her second full-length 'Broken Into Pieces'produced by Nigel Stonier (Thea Gilmore), Dressner has gone from strength to strength, her songs delivered with a such a conversational ease that it often seems as if she is reading from an intimate letter set to music. Shire Folk called her latest "one of the freshest and most enjoyable releases of the year."
Her straightforward lyrical style, sharp ear for wordplay and crisp, lilting vocals offer listeners a front row seat to her stories. Her music has drawn comparisons to an up-tempo Mazzy Star or an understated Jenny Lewis.
Dressner's songs have received considerable airplay on Radio 2 and 6 Music (Tom Robinson, Steve Lamacq, Gidoen Coe, Tom Ravenscroft) and on other local BBC radio stations. She is currently recording her third studio album with her husband producer Paul Goodwin (a singer/songwriter in his own right) which will be out in the Spring of 2020. Along with a set of new original songs, the album with include a Magnetic Fields cover and a co-write with Matthew Caws of Nada Surf.
Ahead of the album's release, first single 'Nyack' has received a wealth of airplay, such as Gideon Coe (BBC 6 Music), Adam Walton (for Janice Long Show, Radio Wales) and Roddy Hart Show (Radio Scotland).Since landing on these shores, Annie has performed at the GreenMan Festival, Secret Garden Party, Cambridge Folk Festival, Cluny2, O2 Academy Islington, Norwich Arts Centre, Cambridge Junction, Night & Day among countless other venues and has shared stages with Emily Barker, Simone Felice, Kirsty McGee, Juan Zelada, Lucy Wainwright Roche & Fossil Collective and has just finished off a ten-date tour of the UK with friend and musician Luke James Williams.
Paulusma and Dressner met at the 2013 Cambridge Folk Festival, where they were both performing, and have since become close friends and collaborators. They support one another's music and regularly feature on each other's releases: Polly's voice can be heard as a backing vocal on Annie's upcoming song 'Secrets, Tell Me Lies', while Annie sings on Polly's recent release'Back of Your Hand'. They both couldn't be more excited about going on the road and playing a week of shows to getether.