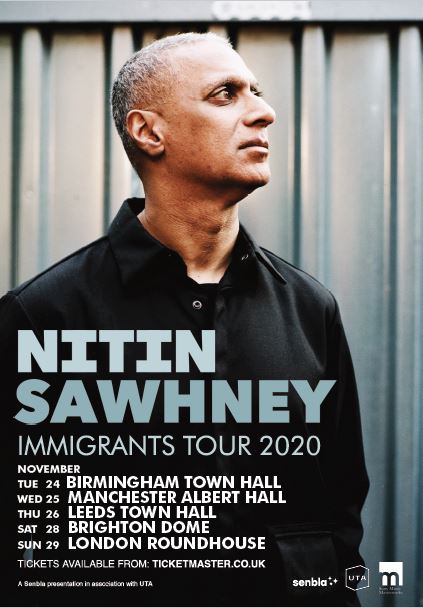 Leading producer, songwriter, DJ, and multi-instrumentalist Nitin Sawhney has announced a new album in partnership with Sony Music Masterworks alongside a UK tour for 2020, following on from his sold out Royal Albert Hall show last year, a celebration of "Beyond Skin" during its 20th Anniversary year.
The November tour will see Sawhney and his band start in Birmingham, playing in Manchester, Leeds, and Brighton before the final stop in London at The Roundhouse.
Sawhney's new album, his first in 5 years, Immigrants is a unique celebration of immigrants around the world, showcasing works inspired and contributed to by artists who either identify themselves as immigrants, are from immigrant heritage or wish to express support for those international immigrants who have found themselves judged or disadvantaged by pure accident of birth.
"In this current, politically charged climate of xenophobia, fear and prejudice towards immigrants, I really wanted to make some music that celebrated the history and journey of those who came to the UK, not only for a better life, but to contribute the influences of their own diverse, rich heritage to the fabric of society and contemporary culture. The album has manifested as a collection of songs and music that express the collective catharsis of all those who participated and to all of whom I am truly grateful", said Sawhney.
The first single from the album, Down The Road, will be released on February 28th. The track features Nitin Sawhney on electric and bass guitars alongside acclaimed tabla player and frequent Sawhney collaborator, Aref Durvesh on tabla and baya together with vocals from BBC Music Introducing artist YVA (Eeh-vah), Dhruv Sangari and Nicki Wells.
Nitin Sawhney is one of the most distinctive and versatile musical voices around today, achieving an international reputation across every possible creative medium. His endless creative curiosity in the worlds of music, film, videogames, dance, and theatre have made him a formidable polymath across the whole artistic range of media associated with the music industry.
With over 20 studio albums to his name, including solo albums, film soundtracks and compilations, along with over 50 film scores, he has received a substantial number of major national and international awards for the work, including the Ivor Novello Lifetime Achievement award.
Ticket Prices

London: £60.50, £37.50
All other venues: £35.50, 29.50
Tour Dates
24th November Birmingham Town Hall
25th November Manchester Albert Hall
26th November Leeds Town Hall
28th November Brighton Dome
29th November London Roundhouse