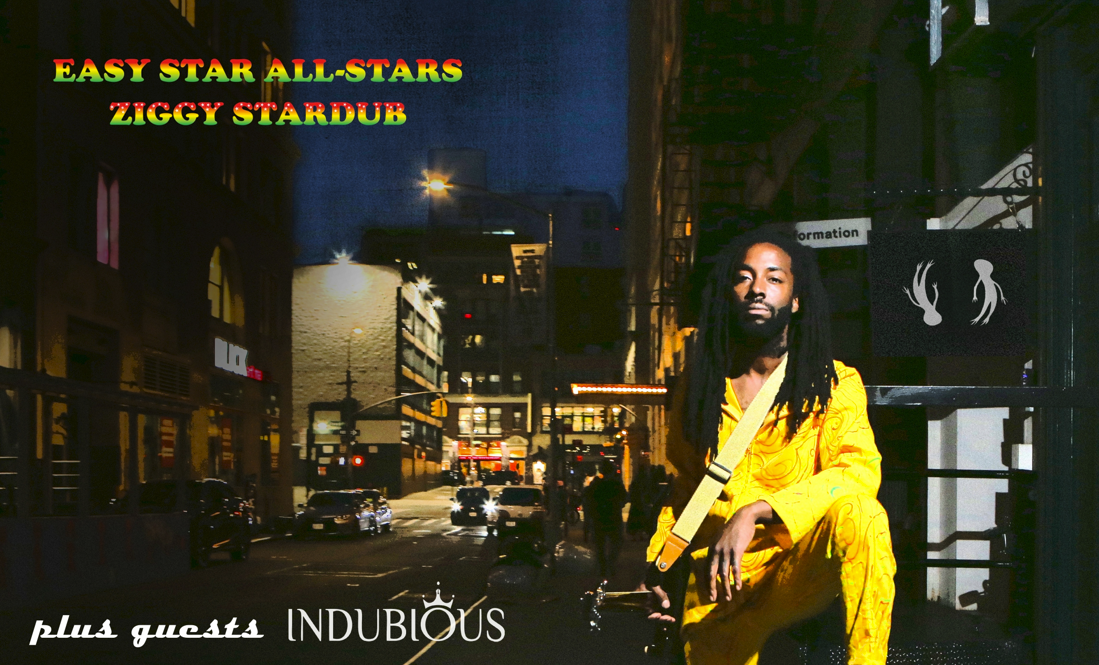 US reggae group Easy Star All-Stars return to the UK for a run of festival and club shows in August 2023 celebrating the release of their newest album, a re-imagined rendition of David Bowie's classic The Rise and Fall of Ziggy Stardust and The Spiders from Mars, aptly entitled Ziggy Stardub.
Blending musical versatility, instrumental prowess, beautiful vocal harmonies, and a premier rhythm section, Easy Star All-Stars have established themselves as one of the top international reggae acts on the scene for over two decades. During this time, they've toured in over 30 countries on 6 continents, bringing together fans of reggae, classic rock, dub, and indie rock into one big family.
Their new album out April 21 via Easy Star Records features guest performances by Macy Gray, Steel Pulse, Fishbone, Alex Lifeson (Rush), Vernon Reid (Living Colour), The Skints, Mortimer, The Expanders, Samory I, Naomi Cowan, and many others.

Since revealing the next tribute album in January, the group has shared first tastes of the project with a few singles, including "Starman," featuring vocals by the Grammy-nominated reggae star Maxi Priest. First shared by Rolling Stone, the All-Stars and Maxi Priest put their signature twist on the beloved hit, making use of reggae drum patterns and vocal styles as they reforge Bowie's work into a fresh piece of danceable reggae fusion. That was followed in February by "Moonage Daydream," which featured vocals by Naomi Cowan and a searing guitar solo by Alex Lifeson of Rush. March 22 sees the release of "Five Years," with vocals by Grammy-winners Steel Pulse.
Previous releases of the band's long-standing collection of tribute albums include Dub Side of the Moon (2003), a critically acclaimed reggae re-working of Pink Floyd's Dark Side of the Moon; Radiodread (2006), which gave the treatment to Radiohead's OK Computer; Easy Star's Lonely Hearts Dub Band (2009), a reggae version of The Beatles' Sgt. Pepper's album; and a re-imagining of Michael Jackson's landmark 1982 album, titled Thrillah (2012). The group has also released a remix album, Dubber Side of the Moon (2010), along with two original collections, Until That Day (2008) and First Light (2011).
Maxi Priest – Starman (feat. Easy Star All-Stars) – https://youtu.be/Yr3zF3WTKLw
Tickets for EASY STAR ALL-STARS – ZIGGY STARDUB – August 2023 – Chester show are available from:
Friday 25th August 2023
CHESTER – Live Rooms
Website – https://thegigcartel.seetickets.com/event/easy-star-allstars/the-live-rooms/2611451
Doors – 7.00pm / On Stage – 7.30pm
Tickets – £25.00 advance
For further information on EASY STAR ALL-STARS – ZIGGY STARDUB, check out the following website / social media links:
Website – https://easystarallstars.bandcamp.com/album/ziggy-stardub
Twitter – https://twitter.com/EasyStarAllStar
Instagram – https://www.instagram.com/easystarallstars/
You Tube Channel – https://www.youtube.com/@EasyStarAllStars/videos